Key Specifications
Automatic
Shower & Toilet
Easy to Drive, with a surprising amount of storage.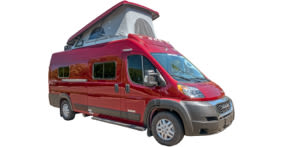 Sleeps up to 4 / Recommended 2 Adults and 2 Children
This sleek and compact campervan has everything you need to travel with ease and comfort. It provides an easy to drive and fuel efficient vehicle that doesn't skimp on the amenities we know our customers love while on the road. With a fold down bed in the back and a pop top bed on the roof there is ample space, both during the day and the night.
The Class B (K) provides another great choice for a couple or family of 4 that is looking to experience freedom on four wheels.