Key Specifications
Automatic
Shower & Toilet
Ample space and convenience for a family vacation.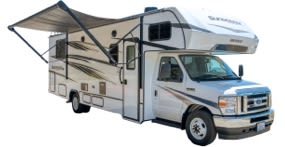 Sleeps up to 7 / Recommended: 5 Adults + 2 Children
The Road Bear RV Class C 29-31 foot Motor Home is perfect for the family. Sleeping up to 7 with a queen bed in the rear, a over the cab bed for the kids, a dinette bed and a sofa bed. It's cozy and yet provides all the conveniences you'll need for your vacation. A toilet, sink and shower, hot water heater, stove, microwave, fridge & freezer, on board generator, the only question is how long are you going to stay away?
The powerful Ford V8 gasoline engine will move you along effortlessly and the air conditioning will keep you cool, while listening to classic, country, or smooth rock music on the AM/FM radio or from a CD. The slide-out room provides even more space and if it rains, you can eat in comfort or sit out under the awning and enjoy the fresh air while the just thawed out steaks are sizzling on the grill. Yes, life can be good on the road! And just when you thought it couldn't get any better, you take in the view of mountains and lakes at sunset and you're ready for the next day of RV vacationing.
Just give Road Bear RV a call and our staff's many years of RV and motor home experience will be able to answer any of your questions and get you started on your next RV vacation!